Local artist Trisha Fitzpatrick is about to embark on a trip to Naples, Italy, to form part of a very special international art project.
With an art trip to New York already under her belt, Trisha is excited to be making so many global art connections, and the future looks busy – and bright!
Hi Trisha. It's been a while since we last spoke. What's been keeping you busy in recent times?
Since coming back from New York, I have been kept busy with an diverse range of commission work, some being of more realistic work of local beaches done on water colour paper and also large abstracted expressionism canvas work, which I thoroughly enjoy.
Tell us about the project, "22 Mad for Naples", which will have you traveling to Naples, Italy, in May. What will you need to do/achieve while you're overseas?
"22 Mad for Naples" is about bringing 22 international artists from around the world and giving them the opportunity to live for two weeks on the partenopean site; during a workshop-art laboratory they will develop personally through meetings, visits, reports and insights related to the Neapolitan contemporary art system. The gallery will provide a starting pattern of possible activities each artist will be able to integrate through their preferences.
Then starting from my subjective personal reading of the places, I will walk the streets, places, museums, sites and routes of art and different landscapes and face the project's theme with a personal European and international perspective.
With this aim, I will create a work specifically dedicated to this comparison with the reality of the town. Then at the end of the project, the 22 works will be the subject of a dedicated exhibition in a prestigious location in the Neapolitan territory.
Also within that two week time slot, artists participating in the project have been invited to stay for two nights, three days in the Pollena Trocchia area of Mount Vesuvius, that was officially declared a National Park in June 1995.
The associations of this area have greatly appreciated the project and wanted to sponsor the artists who will visit their wonderful area of the Somma-Vesuvio.
I believe the first day we will be going to the local school in the Mt Vesuvius region, the second day we go on a dig, and the third day a vigneron will show us the vineyards. On one of the nights they invite us to a dinner held for the artists.
This sounds like an amazing project to be involved with. How did you find out about it, and how/why were you selected to participate?
The Gallery of Monteoliverto contacted me in 2013 after I had successfully exhibited in New York with Agora Gallery, Chelsea. Chantal Lora, who is the Director of Galleria Monteoliverto, started to connect and discuss me becoming involved. I was asked in 2014, however, had to decline, but I was lucky enough to be invited back in 2015.
The project stood out to me as a unique opportunity for me to live in the city and complete a piece of work that was my interpretation of Naples; being there will allow me to soak up the atmosphere of the sights, sounds, food and culture of this amazing city, and in turn create a piece of art that people will enjoy looking at for years to come.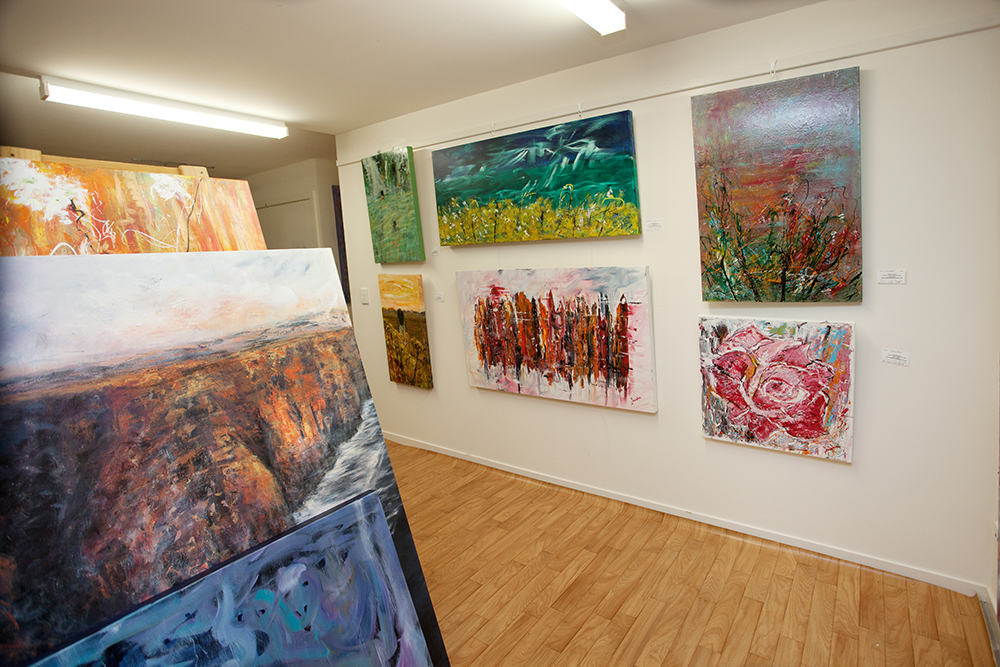 Have you traveled to Italy before? How much are you looking forward to the trip?
I'm very excited to be going back to Italy. This will be my fourth visit; the first was with my beautiful mum and two sisters in 1990, followed by a fantastic five week journey with my daughter, Sally, in 2004. When I was in Tuscany with my daughter, I had time to sketch and paint with watercolour; it was amazing seeing with my own eyes the different atmospheric colours thrown across the landscape at different times of the day.
What do you know about your fellow artist companions who'll also be taking part in "22 Mad for Naples"?
I haven't met any of the other artists. Mad for Naples has invited artists from around the world, which includes Peru, New Zealand, USA, Ukraine, France, Argentina, Sweden – our brief is to bring our own unique technique to the project.
The culmination of your stay in Italy will result in an exhibition that showcases all of the participating artists' works. When and where will this exhibition take place?
The exhibition is held in Naples; it will take place in May 2016, which is their spring – a beautiful time of the year.
What are you ultimately hoping to achieve from this whole experience?
A connection with the international art community, so I can exhibit my art further, rather than just staying in my own comfort zone. I read a saying that rings true to me: "I see my dreams as if I hold them in the palm of my hands; I dare to dream big for it is me who can only create my world".
I know this journey will test me and push the boundaries, but I also know that when I follow this dream as I did with New York, the sense of achievement will be worth it.
What plans/upcoming exhibitions/future projects do you have in mind upon your return from Italy?
I have been given the opportunity to send my works to exhibitions in Paris, Milan and Nice. Being a part of this trip will help me decide if I participate and if I do, it is going to be a very busy year in my studio! I also have two private commissions that I will commence working on when I get back, which I'm really excited about.
Where can readers see samples of your art or contact you if they're interested in your work?
My website www.trishafitzpatrick.com.au or call into my studio at 4 Banksia Street, Blueys Beach. People can call to make sure I'm open on 6554 0902 or Mobile 0488 944 526.

Thanks Trisha.